Ok I decided to add a little something to my blog called "Cammieisms". As many of my family members know Cameron has a way with words, he never ceases to amaze me by what he says. So when a new one comes out I will start posting them on here to share them with you all. So here is the first one....
This happened a couple weeks ago and some of you have heard it but it is still to funny.
So we had just finished eating dinner and Cameron stood up, drank the rest of his water and proceeded to burp. He then puts his hand on his chest and says, " ewu, I don't remember eating that", and just walked away from the table leaving Tim and I rolling.
One more thing, how many 3 year olds love to eat their eggs over easy? Here are a couple pictures of him enjoying his breakfast this morning. Funny Kid!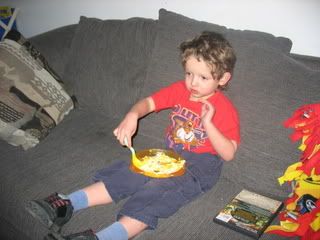 <