Cameron had a firld trip yesterday to a local resturant. The owners have a son in Cameron's preschool class. He has been begging to use my camera a lot lately, so I decided he could use it at the restaurant with his friends. So the following is his recount of the day.
Today I got to go to Tyler's mom and dad's restaurant called Indigo Joe's. We got to sit where ever we wanted. Rachael sat with us. She has a baby brother like I do. I like Rachael. We looked in the kitchen and watched them cook our food, it was neat. The freezer was big, and really cold in there, I would be scared if the door shut me in there. We got to fill up our glasses with what ever we wanted to drink, that was cool, cause I got to have a soda! Then we got to eat our food, I got chicken strips and french fries. I had a fun time. Mom let me use her camera and took some pictures of my friends.



Mom took some of these too.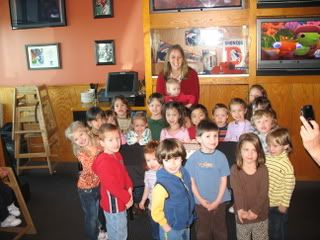 Here is Rachael and her little brother Caleb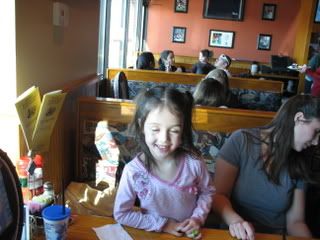 This is my teacher Mrs Campbell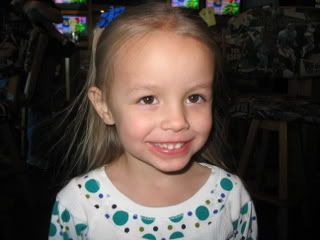 This is Gillian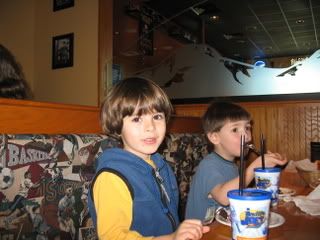 My friends Christian and Gage.

Gillian took this of me!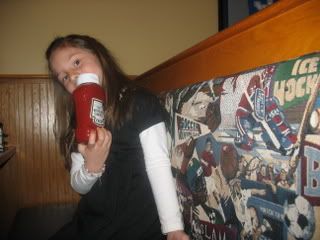 This is Madison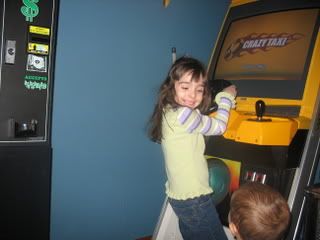 This is Riley
This is another teacher Mrs McClain it was her birthday.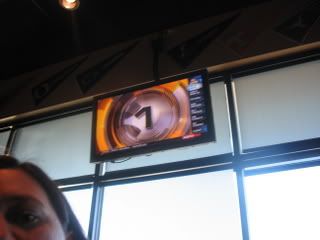 There were TV's everywhere. They had Noggin on all of them it was so cool!


Cooper got sleepy while we were there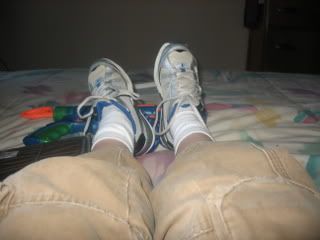 Here are my shoes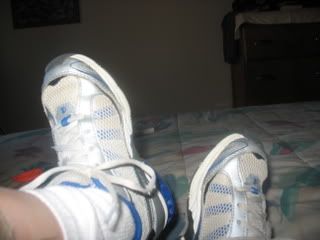 Here are my shoes up close
I'm trying to see up my nose, and my teeth, cool!


So that was Cameron's post for his day. He thinks he is pretty special for getting to put it all on the Computer. I thought I would also put up a couple of Cameronisms also.

Cameron: Mom can you sit here and watch a movie with me?
Mom: Sure what do you want to watch?
Cameron: I don't know, I guess just find a rated R one that we can watch.
Mom: ??????

Cameron: Mom, I'm not going to say shut up or stupid while I stay at Nana's house tonight, OK.
Mom: That sounds good, please be on your best behavior.
Cameron: I know Mom
Mom: and please use your what?
Cameron: (blank stare)
Mom: It starts with a M, (me making the mmmmmm sound)
Cameron: Mayonaise?